Go Green with LED Lights
Green technology has a very positive impact on the environment and it is very cost effective. The rise of environment friendly technologies is closely linked to the resource-conscious mindset that has emerged since the global oil crisis of the 1970s. In achieving the strategy's sustainable growth objectives, environment friendly technologies and energy efficiency will be a key as they apply cutting edge knowledge and non-technological innovations to improve existing products, processes and business models.
- Nikhil Malhotra
---
LED lights are the most energy efficient and eco-friendly by nature. The field of lighting has witnessed dramatic technology developments in the past few decades, especially in the sub-fields of solid state lighting and other energy efficient lighting technologies. India's demand for energy is forecast to grow exponentially in line with India's urbanization over the coming decades. Industries are rapidly embracing energy efficiency as the key to increasing their energy security and improving their economic productivity and competitiveness. The usage of electricity is increasing day by day to meet growing energy demands. These days energy efficiency assumes greater importance because it is most economical and reliable way of meeting the particular global local climate change. Hence the utilization of energy productive lighting is important and happens to be an important portion of the modern society.
Today, energy efficiency is at the forefront of our company policy. Concern about global climate change and the environment has brought the issue of energy efficiency front, GlacialTech is more focusing on producing high energy efficient products which have low energy loss and high efficiency for instance we have LED Drivers which have efficiency higher than 90-95% like our LS series and RS series, these models are with higher efficiency and minimal loss of energy, this helps lamps to perform better and the total lighting system efficacy increases.
LED lights are multilayered semi-conductive materials forming lattice that allow nano phosphors to stick on the surface through a process called solid adsorption. The LEDs are pollution free and provide viable lighting option.
LED Lights have super long life span of up to 80,000 hours and have no filaments so it can withstand a greater intensity of vibration and shock than standard lights making them durable with less risk of breaking and need to replace. LED Lights will start at full brightness, instantly; every time; therefore there is no need for backup lighting and they are also an eco-friendly form of lighting as they do not contain mercury or other harmful gasses.
When we talk about the benefits of LED lights the first thing that comes to our mind is the longer lifespan, more durability, no hazardous materials to clean up if you break one etc. The long operational life time span mentioned above means also that one LED light bulb can save material and production of 25 incandescent light bulbs. These lights are ecologically friendly as they are free of toxic chemicals. Most conventional fluorescent lighting bulbs contain a multitude of materials like e.g. mercury that are dangerous for the environment. LEDs are extremely durable and built with sturdy components that are highly rugged and can withstand even the roughest conditions. As they are resistant to shock, vibrations and external impacts, they make great outdoor lighting systems for rough conditions and exposure to weather, wind, rain or even external vandalism, traffic related public exposure and construction or manufacturing sites.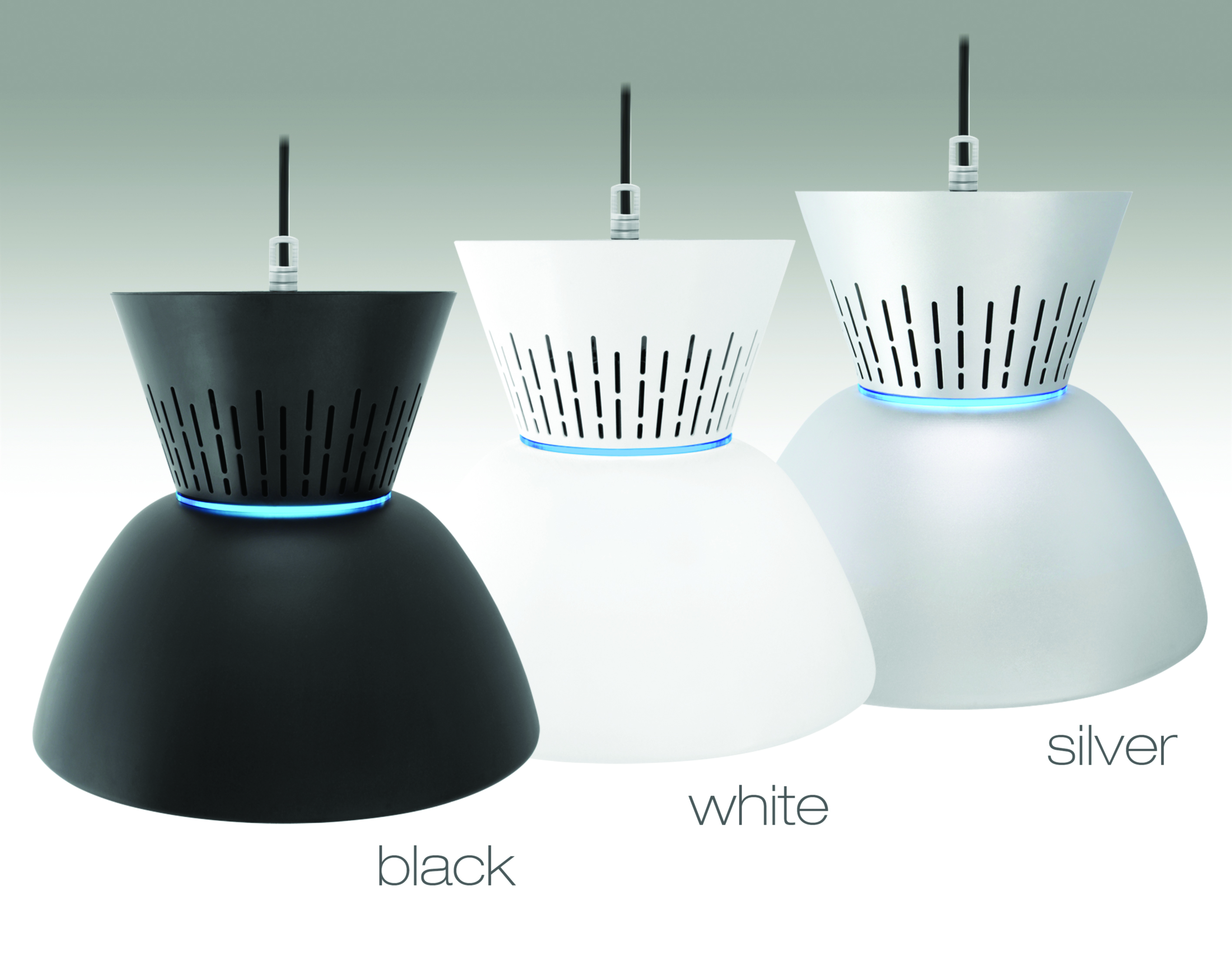 LED's are currently a very well known trend in the lighting business, but the industry is experiencing a high number of players and it is very competitive. Therefore it is not easy to gain new business prospects, especially for the SME's like Glacial Light. So our approach is to offer more functional lighting solutions by improvising the technical background in our product line, offering high-end and eco-friendly lighting with higher wattage, and strengthening our marketing strategies. GlacialTech recently comes up with innovative products of LED Lights in market:

1. Thermal Heat Sinks-
GlacialTech is currently developing cold forging technology for LED thermal modules. Cold forging produces heat sinks that have better heat dissipation than die-casting and aluminum extrusion. Using AA1070 aluminum, thermal conductivity can be improved 2.36x compared to die casting from 96.2 W/mK to 227 W/mK.
GlacialTech's unique copper/aluminum cold forging seamless joining technology greatly enhances thermal conduction and reliability when copper is embedded to make sure the two materials are joined together seamlessly during the manufacturing process.
The two materials work together to improve heatsink performance. The copper component conducts heat quickly from the bottom to the entire transverse surface. The high thermal conductivity of the aluminum fins lets heat dissipate quickly. GlacialTech's new copper/aluminum cold forging technology is the most cost effective and lightweight thermal solution when space is at a premium.
2. DALI Interface Converter with PWM and DC Output-
GlacialLight, a division of the Taiwanese technology manufacturer GlacialTech Inc., is introducing the GL-DA02 DALI interface converter to its product lineup.
As an open standard, DALI is internally recognized as the premier new lighting control interface and is cross-compatible across lighting components from different manufacturers. Highly scalable, it simplifies wiring compared to conventional lighting control systems, making installation easier and reducing maintenance costs.
DALI can not only control lighting but also monitor it, allowing for intelligent lighting systems that maximize service life and save energy. Compared to legacy solutions, a DALI network is more precise and allows fine grain control over the individual components in a complete lighting system.
GlacialLight's DALI Interface Convertor is fully IEC62386 (102, 206) compliant. Taking a digital DALI signal, it can output either PWM, 0-10V DC, or 1-10V DC signals and is suitable for controlling 3-in-1 (DC/PWM/Resistor) LED drivers. Dimming can be set on a linear or logarithmic curve. With a built-in relay, devices down the line can be turned off completely, giving complete lighting control and reducing energy costs.
As an indoor digital lighting control system, the GL-DA02 convertor is well suited for applications including office buildings, conference rooms, factories, and intelligent home lighting.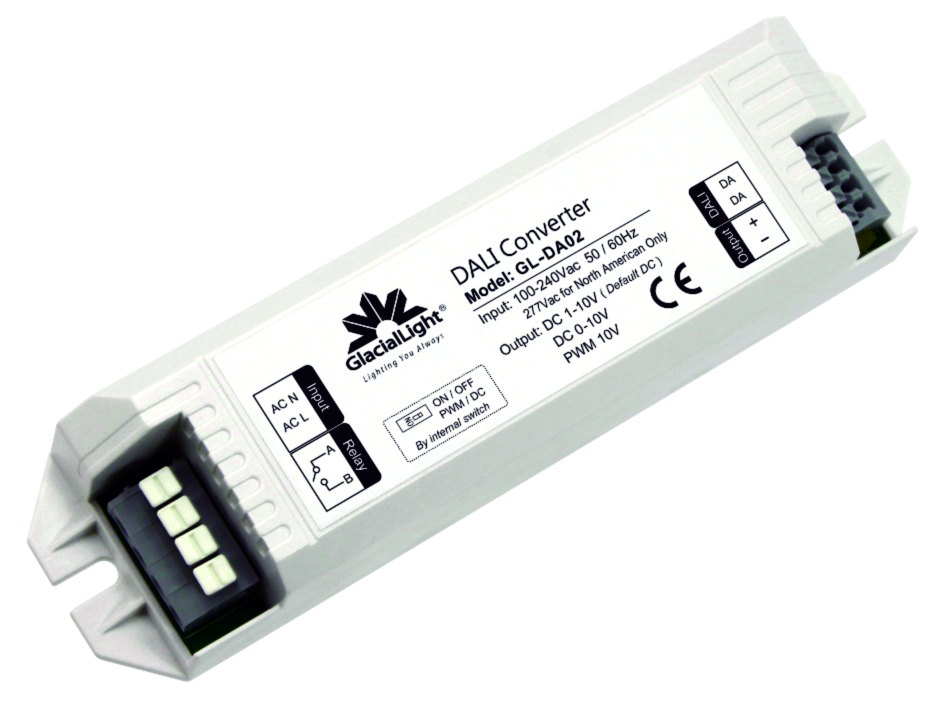 3. GP-LC7028-Q5D:-
GlacialPower, a division of technology manufacturer GlacialTech, announces today a new dual-mode LED driver powering LED lighting from 7W to 20W. Featuring either constant current or constant voltage operation, the LED driver mode and power output can be easily adjusted to fit a variety of lighting and signage applications. Power input and output lines are connected via robust and easy-to-use clips.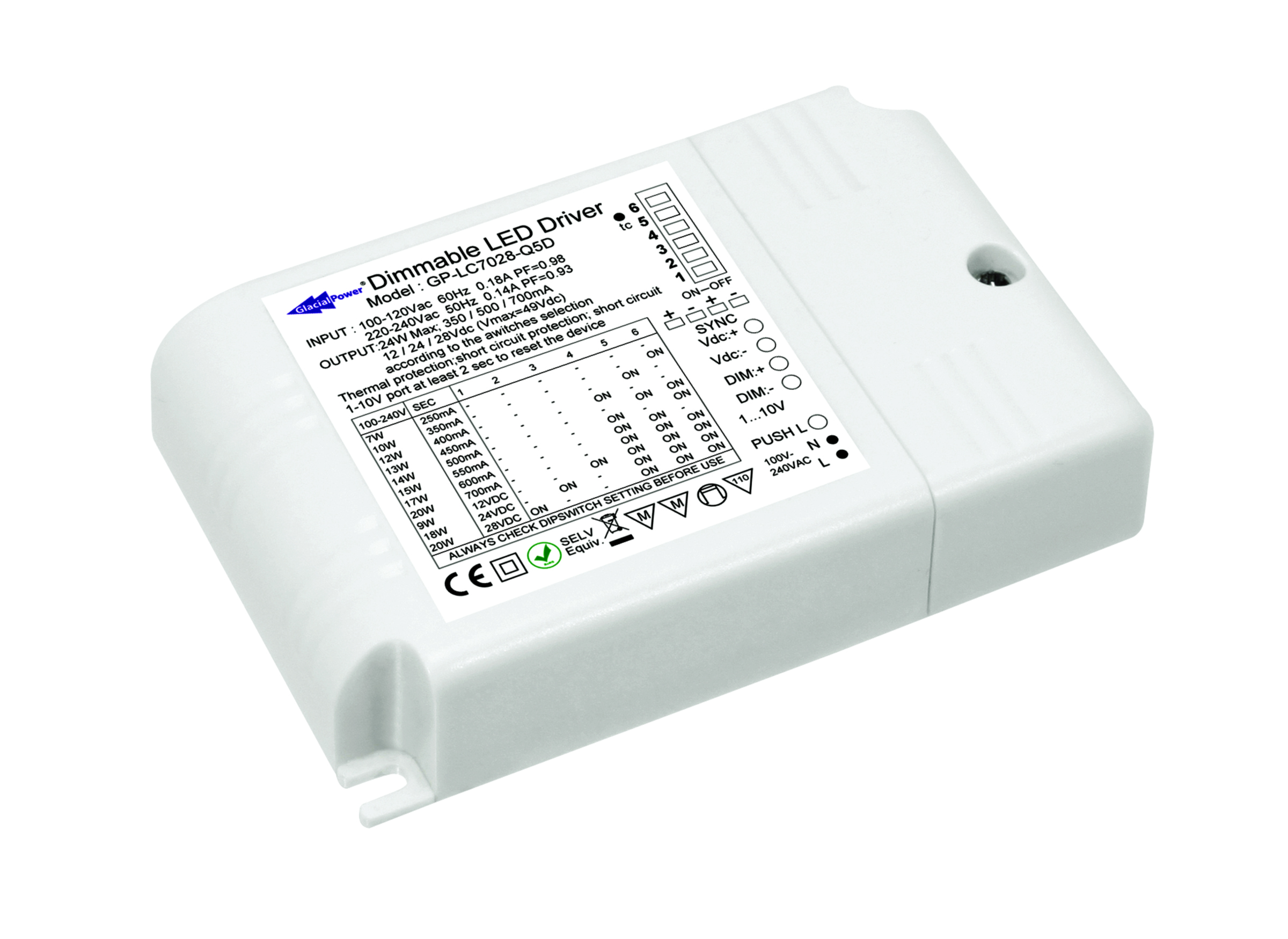 2-in-1
The GP-LC7028 LED driver is two LED Drivers in one, with easy DIP switch configuration to either constant current or constant voltage mode for enhanced functionality. It can be easily customized to specific LED lighting needs with 8 modes of constant current operation from 250mA to 700mA, and constant voltage modes from 12V, 24V and 28V output available. For constant current mode with 1-10V dimming and push dimming can also easily be enabled with a dimmer.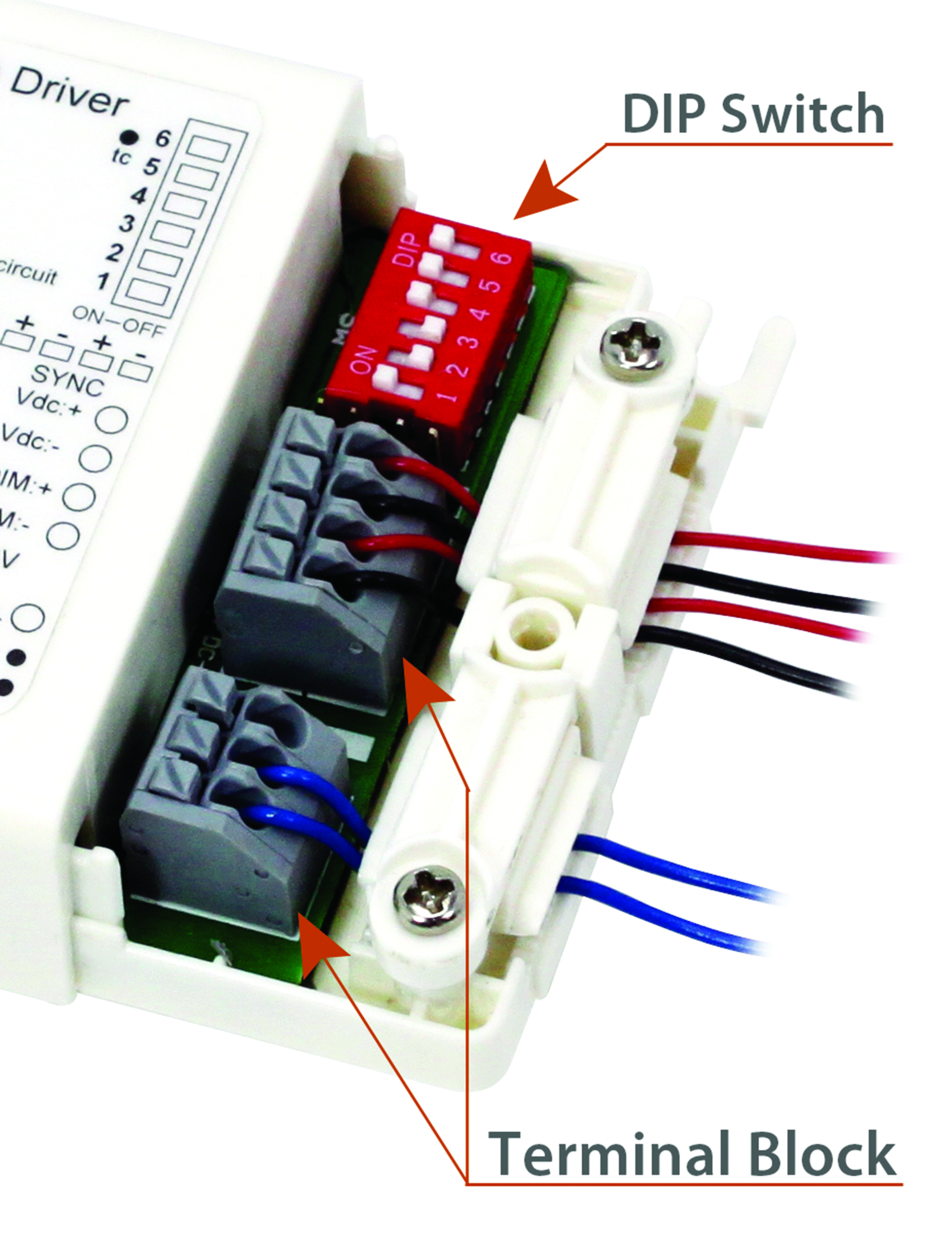 4. GP-LC Series:-
GlacialPower, a division of Taiwanese technology manufacturer GlaicalTech, announces two new wall mount LED adapters for desk lamps, floor lamps, strip lighting and other indoor lighting applications under 9 watts. The 8W GP-LC3536-0A and the 9W GP-LC7021-0A are compact wall mount power supplies providing constant current for LED lighting. These fully-isolated LED adapters feature a compact two-prong design with Overload Protection (OLP) and Short Circuit Protection (SCP).
Universally Compatible
GlacialPower's GP-LC LED adapters are worldwide compatible, with universal AC input from 90 to 264V AC power accepted. Input plug adapters can be customized to US or EU electrical outlet standards. The power supply output plug to the device can be selected by the customer to suit their needs.

5. Low Bay Lights GL-BL50:-
GlacialLight, the lighting division of GlacialTech Inc., is introducing the Arcturus series of GL-BL50 Low Bay Lights. These dimmable 50 watt LED low bay lights come in three colors, and an artistic design making them suited for a variety of indoor environments. Shopping malls, restaurants, offices and even homes can all benefit from the even lighting and contemporary styling of the GL-BL50. The GL-BL50 is compatible with international mains voltage from 100-240V and comes in a variety of configurations for almost any indoor environment. A choice of 3 color temperature options are available– Warm White(3000K), Neutral White(4000K), and Cool White(5000K). The GL-BL50 can be hanged with a pendant rod, cable, or chain type installation. IP54 rating means it's tough enough for restaurant, garage, or kitchen use. And with that, we hope to see better results for the coming year ahead.
---
The Author is Regional Sales Manager at GlacialTech Inc., Taiwan.
If you want to share any thoughts or feedback then please leave a comment below.